WHY CHOOSE SHARPER VISION CENTERS?
---
Customer service
Our staff provides a combination of the latest in vision correcting technology with one-on-one patient care. Come and experience boutique-style care and prompt service without long waits, where the staff is experienced in personalized cataract, refractive lens exchange, and LASIK surgeries.
An experienced and well-trained staff
The staff at Sharper Vision Centers is well trained in all aspects of our services. They regularly attend national meetings to keep up with the latest advances in LASIK and cataract surgeries. The staff has frequent educational meetings with Dr. Oyakawa.
An experienced, trusted,
well-trained ophthalmic surgeon
Dr. Oyakawa is a trusted, skilled, and experienced ophthalmic surgeon who has been in practice for over 36 years. He is fellowship-trained in vitreoretinal surgery. He has performed thousands of corrective surgeries from referring physicians for complications of cataract surgery. He is one of few surgeons who is trained in vitreoretinal surgery and who can also perform both LASIK and cataract surgeries with the latest techniques. He trained at the Wilmer Institute of the Johns Hopkins Hospital and the Bascom Palmer Institute of the University of Miami.
The most advanced surgical techniques
Dr. Oyakawa has implanted all FDA approved presbyopia-correcting IOLs and started presbyopia-correcting cataract surgery in 2000. Only a minority of cataract surgeons are implanting presbyopia-correcting IOLs and most of them did not start until after 2006.
We use small incisions for cataract and refractive lens exchange surgeries with topical and intracameral anesthesia for safety and better results. We also offer astigmatism control and presbyopia correcting IOLs (Crystalens® Center of Excellence was awarded to Dr. Oyakawa). The Intralase® is used for LASIK surgery for a safer and more precise blade-free surgery to create the flap.
State-of-the-art diagnostic tools
A macro automated refraction system is used to measure the refractive state of your eyes. This system is much more accurate than the manual phoropters commonly in use. The Lenstar 900 is used to determine IOL power.This is one of the most accurate method for measuring the parts of the eye to determine the IOL power for your eye. It also has advanced formulas that improve IOL power calculation in eyes that have had previous refractive surgery (RK, PRK, & LASIK).
Patients who decide on a premium IOL
(presbyopia-correcting or astigmatism-correcting IOL) will have additional tests.The Nidek OPD 3 will be used to measure corneal wavefront aberrations, topography and keratometry. It also measures the pupil diameter for light and dark. Ocular dominance will be determined. The intraocular structures are measured using the Optovue Avanti widefield OCT. This is used to image the cornea, optic nerve and macula. This is done at a level that cannot be seen by conventional tool.
PREVIOUS REFRACTIVE SURGERY (RK,PRK, LASIK)
An important measurement to determine the IOL power depends on corneal measurements. The standard IOL formulas can not predict the correct IOL power due to the changes in the cornea. We use the formulas for astigmatism and previous refractive(RK,PRK, &LASIK) surgery from the Lenstar 900, the Avanti's Total Corneal Power which measures the corneal refractive power, and Nidek OPD3 corneal power after refractive surgery. The different results are entered into a formula to get the best IOL power.
Using the best facilities for your eyes
All our cataract and refractive lens exchange surgeries are done at Specialty Surgical Center, 9001 Wilshire Blvd. Beverly Hill, CA 90211 in Beverly Hills. This center has the latest equipment and best-trained staff to ensure the best possible surgical results for our patients. All LASIK surgeries are also done at the Specialty Surgical Center, formerly the Cedars-Sinai Laser Center. This was the first facility in Los Angeles area to have an Intralase® to provide a safer blade-free LASIK. We have multiple laser platform (VisxS4 with CustomVue™ and Allegretto Wave™) to customize your LASIK surgery.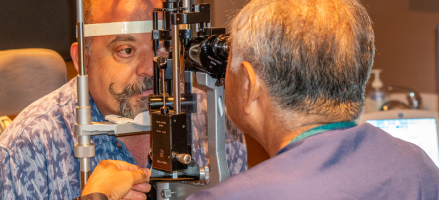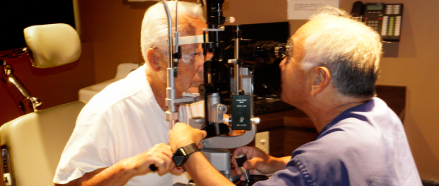 CRYSTALENS® CENTER
OF EXCELLENCE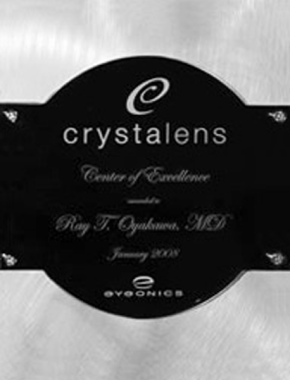 CRYSTALENS® REPORT