DRY EYE DISEASE TREATMENT IN TORRANCE, CA
SHARPER VISION CENTERS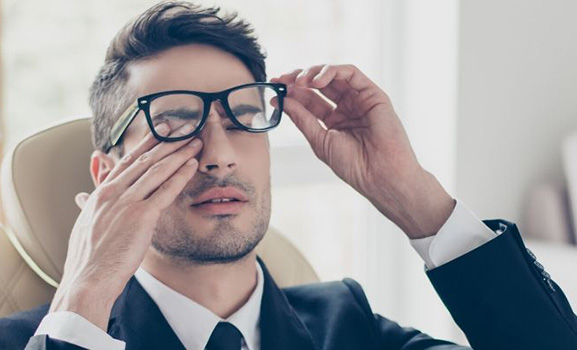 What are Dry Eyes?
---
Dry eyes can occur when tears evaporate too fast, or if the eyes syndicate fewer tears. It's common in humans and in certain animals. It can discomfort one or both eyes, and it may lead to inflammation. You may experience this condition in some cases: in an air-conditioned space, on an airplane, while driving a bike or after working on a laptop for a few hours.
Dry eye syndrome or dry eye disease (DED) can manifest at any age and otherwise healthful people. It's more common with older age when the individual generates fewer tears. Also, it's more represented in women than in men.
This comprehensive overview will cover symptoms, causes, risk factors, natural cures, medications, and treatment options.
Dry Eyes Symptoms
---
Symptoms of dry eyes include:
Blurred vision;
Itchy eyes;
Burning sensation;
Aching sensations;
Fatigued eyes;
Heavy eyes;
Sore eyes;
Red eyes;
Dryness sensation;
Photophobia;
Difficulty wearing contact lenses;
Difficulty with nighttime driving.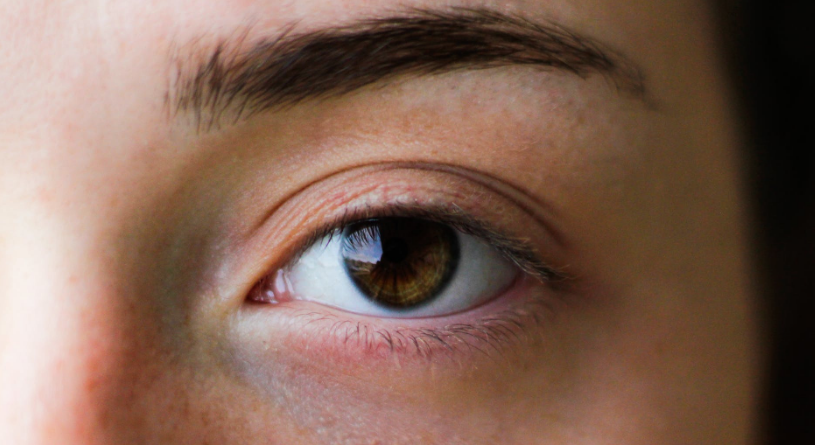 See your ophthalmologist if you've had prolonged and symptoms and signs of eye dryness, such as irritated, red, painful, or tired eyes. Your eye doctor can take steps to establish what's disturbing your eyes or refer you to a specialist.
What Causes Dry Eyes?
A proper and consistent layer of tears on the eye's surface is vital to keep your eyes healthy, comfortable, and seeing well. Tears clean the eye's surface to keep it moist and wash away dust, microorganisms and debris that could harm the cornea and cause a DED.
A tear film consists of three layers:
An oily (lipid) layer;
A watery (aqueous) layer;
A mucous-like (mucin) layer.
Each part of the tear film has a purpose. For instance, mucin helps anchor and distribute the tears across the eye's surface. At the same time, tear lipids keep the tear film from evaporating too quickly and improve lubrication.
Various glands produce each tear layer on or near the eye:
Meibomian glands produce the oily layer in the eyelids;
The watery layer is created by lacrimal glands located behind the outer aspect of the upper eyelids;
The mucin layer is generated by goblet cells in the conjunctiva that covers the sclera (the eyeball's white outer layer).
An issue with any of these sources of tear film layers can result in dry eyes and tear instability.
Risk Factors
Several factors can increase the risk of dry eyes, such as:
Smoking – Beside dry eyes, smoking has been associated with severe eye problems, such as cataracts, uveitis, and macular degeneration;
Health conditions – Certain systemic diseases including thyroid-related diseases, diabetes, lupus, Sjogren's syndrome, and rheumatoid arthritis – contribute to DED;
Medications – Many prescription and nonprescription medicaments – including antidepressants, antihistamines, birth control pills, and certain blood pressure medications raise the risk of dry eye syndrome;
Eyelid issues – Uncompleted closure of the eyelids when sleeping or blinking — a condition called lagophthalmos, triggered by aging or manifest after cosmetic blepharoplasty or other factors – can cause a serious condition that can produce a corneal ulcer if left untreated.
Age – It can occur at any age, but it becomes hugely more common later in life, particularly after age 50;
Menopause – Post-menopausal women are at higher risk of this disease than men of the same age;
Extensive work on computer – When working at PC or using a smartphone or other smart device, you tend to blink your eyes less frequently and less fully, which leads to increased tear evaporation and a higher risk of this syndrome;
Contact lens – Though it may be challenging to pinpoint the exact extent that contact lens wear contributes to these problems, DED is a primary reason why people discontinue contact lens wear;
Outdoor environment – Arid regions and windy or dry conditions enhance eye's dryness possibility;
Indoor environment – AC, forced air heating systems, and ceiling fans can reduce indoor humidity and/or speed up tear evaporation, inducing dry eye symptoms;
Frequent flying – The air in the airplanes' cabins is extremely dry and can minimize dryness issues, particularly amongst frequent flyers.
How do You Permanently Treat Dry Eyes?
If your condition is severe, you have many dry eye treatment options. What you do depends on what's producing your dryness.
OTC (over-the-counter) Eye Drops
OTC eye drops or artificial tears are the most prevalent dry eye medication. They simply moisten your eyes. Preservative-based eye drops can be used for an extended period. Preservative-free eye drops come in disposable vials that you use once and throw away.
If you have mild symptoms, artificial tears may be all you need. Still, you may have to apply them several times a day. Ointments can also be applied, but they tend to make vision blurry. Ointments coat eyes better than eye drops. Since they make vision cloudy, it's recommended to use them right before bedtime.
Eye Inserts
When regular over-the-counter artificial tears don't work, eye inserts might be a solution. These, clear tubes of remedy look like grains of rice and enter into your eye like contacts. You place the inserts in your eye between your lower eyelid and eyeball. Medication will be released during the day to keep your eye slightly wet.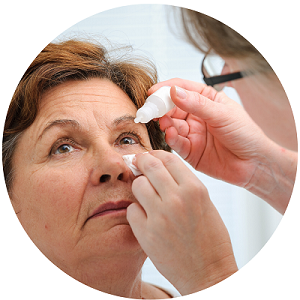 Standard Procedures
In addition to OTC medications and prescriptions, specific procedures may be applied to treat a chronic condition, including:
Closing your punctal plugs – If your eye condition doesn't respond to traditional techniques, your ophthalmologist may recommend this treatment to partially or entirely plug your punctal plugs (tear duct plugs). Using this method, the tears will longer stay in your eyes if there is no place for draining. Tear duct plugs are made of silicone and are removable;
Special contact leans – You may find relief from chronic dryness by wearing a bandage or scleral lenses. These specialized contacts are made to protect your eye's surface and prevent moisture. This option is useful if your dry eye is caused mainly by losing tears rapidly;
Cleaning blocked oil glands – Your eye doctor may recommend a LipiFlow thermal pulsation procedure to unclog blocked oil glands. It works by applying accurately controlled heat and adaptive pressure to the inner eyelid, so your body will produce lipids necessary for a balanced tear film. Each treatment session lasts 10 to 15 minutes, during which the machine provides a tender and comfortable massage to the inner eyelid. With no treatment-related complications or unpleasant after-effects reported, LipiFlow can be safely performed on patients of any age or skin type.
Prescription Medications
Your eye doctor may prescribe a medication to treat this condition. These medications may be given as eye drops or orally. Most of them center on reducing inflammation of your eyelids. When the eyelids are swollen, they prevent your oil glands from spreading oil into your tears. Without oil, your tears evaporate too fast.
Certain antibiotics stimulate oil production in the glands around the eyes. If your ophthalmologist thinks your condition is caused mainly by inflammation, he/she may prescribe anti-inflammatory antibiotics. Prescription artificial tears are often anti-inflammatory also. One example is Restasis (cyclosporine). This remedy is also used to treat patients with psoriasis and rheumatoid arthritis. It suppresses the immune system so that the body stops attacking itself. Xiidra (lifitegrast) is another prescription drug approved explicitly for chronic dry eye treatment.
Natural Methods
Many natural treatments may help chronic dry eye condition. Apply the following examples:
Castor oil artificial tears – Castor oil form eye drops reduce tear evaporation, improving your health. Always talk to your eye doctor before trying any natural cure;
Massage eyelids with mild soap – Close the eyes, apply the soap, and gently massage your eyelids;
A wet, warm cloth – Hold this over your eyes for 5 minutes to reduce these symptoms.

How to Cure Dry Eyes Permanently?
Dryness in the eyes is usually caused by insufficient lubrication. It can become chronic if left untreated. Here are the six methods that will cure dry eyes permanently.
Healthy food – The quality of your diet has a direct impact on the health of the eyes. Inadequate nutrition can cause multiple eye issues, including dryness. To cure dryness efficiently, ensure you eat at least 3 healthy meals per day and plenty of fruits;
Avoid pollution – Exposure to pollution can cause eyes' rubbing, which can damage their tear film. An infected tear film makes it easier for irritants and pollutants to access your eyes and produce dryness. Hence, protect your eyes from pollution;
Wear lenses carefully – Contact lenses soak in the moisture from your eyes. Therefore, it's not recommended to wear them all the time. If you feel dryness, minimize the use of contact lenses and whenever you do use them, ensure they are clean;
Use eye drops – Dry eyes are the outcome of excessive dryness of your eyes' surface. Eye drops (artificial tears ) are an excellent way to deal with the dryness. By using artificial tears a few times a day, you can sufficiently lubricate your eyes;
Hydration – Similar to how poor or inadequate or nutrition leads to eye dryness, your body's lack of water produces dryness of the eyes. By consuming lots of water and keeping yourself hydrated, you can ensure that your eyes' fluid doesn't exhaust;
Blink frequently – Using digital devices like smartphones and computers for a long time without a break interferes with your natural blinking action. Blinking your eyes regularly (every 3 seconds) is an excellent method to lubricate your eyes naturally.
What Should I Eat for Dry Eyes?
Today, about 50% of adult Americans regularly experience dry eye signs. Studies have shown that certain vitamins for dry eye treatment can help maintain proper hydration of the eyes, such as:
Antioxidants
The dryness of the eyes can occur by free radical damage in the body. Studies have demonstrated that antioxidants can fight these free radicals and slow the process of oxidation. Antioxidant-rich foods are simple to identify since they are a dark rich color. These include – kale, collard greens, spinach, blueberries, goji berries, acai berries, etc.
Omega-3 Enriched Foods
These acids have always been linked to excellent nutrition. There are 3 different types of Omega – 3s that can't be synthesized in the body and should be added to your diet. These acids are alpha-linolenic acid (ALA), docosahexaenoic acid (DHA), and eicosapentaenoic acid (EPA).
Here's a list of foods that can improve your daily intake of Omega-3:
Chia seeds, pumpkin seeds, flaxseeds, and walnuts;
Palm and soybean oil;
Fatty fish, like salmon, tuna, halibut or trout;
Pasta and oatmeal;
Eggs, milk, yogurt, and soymilk;
Kale, brussels sprout, spinach, and parsley.
Potassium
Potassium is also great for eye dryness since it's a critical element that comprises your tear film. Low potassium levels have been associated with damage to your tear film, and potassium is vital for maintaining film thickness. To keep your potassium levels high, consume these foods: bananas, white beans, soybeans, potatoes, sweet potatoes, yogurt, etc.
Does Drinking Water Help Dry Eyes?
Yes, because water is pivotal in keeping your body functioning adequately, not excluding eye health. Keep your eyes hydrated by drinking 8-10 glasses of water per day in addition to the liquid that's absorbed by the foods you consume.
Best Dry Eye Treatment in Torrance, CA
Dry eyes can be more than just irritating. Dr. Oyakawa offers highly effective dry eyes treatment in Torrance, CA that will finally get your eyes back again.
To evaluate your dry eyes, and get a specific diagnosis, schedule a comprehensive exam today. These exams will detect causes and symptoms. Our ophthalmologist will then be able to suggest the appropriate treatment based on the route of your problems.
Contact our practice at c for more information on dry eye syndrome treatment in the South Bay region.